My apathetic, weary fog was lifted at one of our strangest stops: the Charterhouse in London.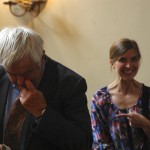 Not completely sure why we were there, we sat in the carved wooden choir stalls and began listening to this elderly man who bent a bit and closed his eyes while he spoke. With his sidekick Bob, these dudes became hilarious and one of my favorite parts of the trip. Maybe it was  delirium from so many days of travel, maybe it just is what it is. I LOVED him. I even photobombed with him just so I could have a picture. I was about to explode with silliness. Once again on this trip, I couldn't contain myself.
These two gents live at the Charterhouse and gave us a tour dotted with pretty comical moments. My favorite was when our main man asked "Are you all on a schedule? I'm not. I'm here till I die…"
We saw the rooms, the old Carthusian monastic area, and listened to them talk about who knows what, with a renewed pep in my step.
Later making our way to St. Paul's Cathedral, I sat on the steps with a flapjack and coffee, Mary Poppins' "Feed the Birds" playing in my head (I may have sang it once or twice…maybe).
Prepped with a renewed outlook, this is where I had my unexpected epiphany.
After attending seminary, working in church, choosing not to work in church, coming through so many different phases of religion, my attitude towards church has been a little rocky, a little conflicted. Sometimes when you change, it's hard to know how to replace, rework or renew old understandings. It's a muffled area that causes me sometimes to cringe, sometimes to hide, sometimes to ignore, occasionally to explore.
Sitting in the beauty and grandeur of the great cathedrals of Europe, I alternately marvel at the historic significance and immense perfection of the sanctuaries, and squint at the funding and imperiousness of the buildings. A little skepticism, a lot of admiration.
This time, we sat in the center of St. Paul's cathedral ready to participate in the Eucharist service. My loaded feelings reared their ugly heads and I tried to wash the slate clean and just experience. A mental tug of war ensued.
And then came the epiphany.
June 25, 2014
"We worshipped at St. Paul's, up front, smelling the incense, watching the light shine on the gold and mosaic tiles. The music filled the space and echoed in my heart. The boys sang like angels and the kindness in the faces of the priests warmed the room and softened my cynicism. The sermon came and took me by surprise. I even cried a little, which is rare. 
The huge sanctuary became like a warm home.  What I expected to be impersonal was very much personal. 
The priest spoke of John the Baptist, saying that God isn't found in our structures, but in the wild places. I saw my mountaintop in the hills of Northern England, and my busy home and messy yard. The priest spoke of change, and called us to stop just slithering through life and instead to shed our old skin. A tear rolled down my right cheek as he spoke, and I felt my eyes open. The disjointed puzzle pieces of my life and experiences moved into place and connected for one glorious moment. As my stomach burned with the shared Eucharist, I recognized a turning in my life. I am excited to follow its mystery, as my eyes followed the clouds of incense moving into the light."
That may sound silly; it may sound fluffy or verbose. But it means something to me, and I have a small, clear step to take. I'm planting a kitchen garden in my front yard. There are numerous small reasons and numerous small expectations. It all fits together in my head, even if it is largely unexplained. I'm prone to "whims," so you could consider it a directed whim. It is what it is, and we'll see what it becomes.
"Today more than ever, we need to recapture a sense of 'place'…. As Wendell Berry put it in his Hannah Coulter, 'Love in this world doesn't come out of thin air. It is not something thought up. Like ourselves, it grows out of the ground. It has a body and a place.'" -excerpt from our trip sourcebook