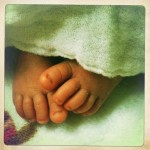 You're expecting a baby. You toss around this name, argue over that name. You think of the ways someone could make fun of the name, what it rhymes with, how it looks in writing. For me, I knew the baby's name as soon as the gender was discovered. For my sister, her baby had a name when they were forced to turn in the birth certificate form. It's a big deal, naming a person!
In a different setting (or if you're like me, with said baby on your hip), it's time to choose another name: another "product of your labors," if you will (ha ha).
Your art is complete. You stand back, considering the image, thinking of the message, the voice you hope it conveys…the mood, the feeling. It's time to give it a name. Sometimes a name seems to come pre-attached to your artwork and is easy to choose, such as my "The Clod and the Pebble," which was inspired by the poetry of William Blake. Sometimes extensive creativity is not required, like a friend of mine who numbers his cow paintings (Cow 1, Cow 34, etc.). Sometimes naming art can be comical, when you try to be real "artsy fartsy" and call it "Life Emerging from Heartstrings" or "Purple Mists Over the Lands of Love." (apologies if anyone has chosen these fabulous, imaginary titles…)
At other times, you stare and stare and your mind draws a blank. This happens to me A LOT. I'll toss names around, and finally just settle for one that I may find a bit silly.
For a person, a name sticks with you for your whole life…on your driver's license, your school work, tax forms, e-v-e-r-y-t-h-i-n-g. Luckily in art, at least for those of us not painting "Mona Lisa" and "the Scream," a painting's name isn't set in stone (whew!).
Take my newest piece "Cotton Whispers": I thought about what I was trying to "say" with this piece; I wrote about it, I stared at it. I chose a name and I published it for all the world to see. And now…
I think it's a dumb name. I don't like it. I'm going to call it something different when I think of it, because I can! So there! (said like my 7-year-old daughter when she refuses to do her homework or eat her eggs, with the additional stomp of the foot).
When it comes down to it, I try to choose a name that describes my art on a level that goes a bit deeper than face value. There is, at times, some self-consciousness involved in putting the names out in public. But you just have to go for it. It's your art, and YOU are the one who should be happy with the name. And if you don't like it, you can just change it without having to go through any legal paperwork…hurrah!
"What's in a name? That which we call a rose by any other name would smell as sweet"
– William Shakespeare, Romeo and Juliet