"This land is your land, this land is my land…"
It's the 4th of July, Independence Day here in the USofA.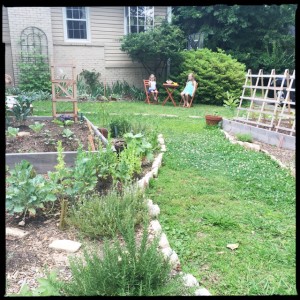 We make our homes, build our lives, work to provide and strive to enjoy our days together, like just about every human being.
Here at the Ingram household, we have dug up 2/3 of our front yard (remember last fall?) and are growing our first spring and summer garden. And good grief, is it ever a fight. You'd think you could just plop some seeds in the dirt and they will grow into full, lush plants dripping with fruit. Not so much. Amending the soil, not over-watering nor under-watering, picking off those (bleepity-bleep) cabbage worms, fighting off the ants, beetles, birds, cats…
It takes consistency, perseverance, problem-solving, patience – much like life.
My garden daily calls me to consider my life.
A good life, a well-spent life, takes all of these things that the garden requires. You must get your hands in the thick of it to make a difference, to live outside your safe walls. You must persevere and admit you have no idea what to do next sometimes. You have to keep trying, being okay with failure here and there, knowing you will get where you want to go in the end – somewhere good and full of life.
We have successfully eaten food from the garden; we will, with working hands and honest eyes, find progress toward good things.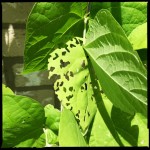 My frontyard garden puts me closer to community. I can't hide in my backyard privacy fence, caring only for my own. And I don't want to. My neighbors see my yellow tomato plant, give me advice on how to get the beetles off my bean plants, ask me how my lavender has stayed alive. I've met so many people while pulling weeds near the road. My garden has led me to some of my greatest new friends, like Ms. Gladys from Haiti. People I may never have met.
Forcing myself out front in the garden helps me put myself "out there," taking greater chances in community. It has given me courage to speak to people in our community who know little English, not as worried if I look like a miming fool. And the fruits of these awkward conversations have been beautiful.
This land is OUR land…all of us together, with our glorious diversity. 
Our news is currently filled with examples and actions of hate in our nation. Intolerance, pointing fingers, pointing guns… we are better than this, surely. Our nation is founded in diversity, a country made of immigrants. It should flourish in its diversity.
We have so much to learn from each other, if we can open our eyes and work with love. Get our hands dirty, and be willing to look a little stupid sometimes when we feel unsure. Live with kindness, courage and understanding, not hate, fear or suspicion.
Let's celebrate together, grow together and move forward together.