It seems to be a normal part of life that days never proceed as planned.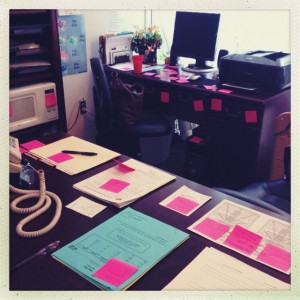 I'm a planner…a list-maker extraordinaire. At work, I'm known for my broad use of sticky notes, so much so that the other day I found my office covered in notes, a joke from a supportive friend and coworker.
My expectations are so regularly thwarted by the not-unwelcome interference of life in family and community, that I'm slowly learning to relax and enjoy each moment as it comes, whether its on my list or a curve ball from left field.
As an artist with a "day job" and young family, art usually must take a back seat. I don't have as much time as I used to for reflective, (I won't even try to say uninterrupted) creativity. When I encounter a long stretch without creating, my mood definitely drops and I have to find a moment for at least a quick sketch.
My baby girl is about to turn one year old; my son will be starting kindergarten at elementary school in August; my 1st grade daughter has lost four teeth and can write her own stories; I've been married almost 11 years to my wonderful husband. Those busy days that usurp my sticky-noted lists are bearable-and enjoyable- because I know how fast time flies.
One morning before school, an amazing teacher and friend spoke in tearful reflection about her youngest daughter in her last year of high school. She shared some very wise, yet simple words that have settled and taken root in my heart:
"I look back on when my kids were young and realize it didn't matter if my house was clean. Time with them has gone by so fast."
I think of those words and that emotion often. When I get frustrated by my derailed plans, or my crumby table, or the mountain of laundry, I look at my family, at the trees, at my hands, and remember that life comes as a gift to us, one day at a time.
If I don't relish life as much as I can, as each moment passes, it seems to pass like water through my fingers.
I am thankful for this day and all that it brings; may my eyes be open to its moments, and my breath be deep enough to absorb the minutes and make them count.

"Always remember that the future comes one day at a time." -Dean Acheson