We have busy minds. We are always in the process of becoming. For better or worse, our thoughts, actions and choices move us forward, or maybe backward, along the line of history and personal quest. I frequently get caught up in the existential throes of being an artist, of trying to be the best person I can be for the time I have on earth.
One morning I was thinking about fear,
how to overcome it, how to lessen the fear around us. I realized that most cruelty, most fear comes from us, from humans. We humans, more than any other species, threaten each other – with hate, with guns, with war, with irresponsibility, with greed and robbery, with anger and disregard for human life. Recently two young boys that I count as nearly my own had a gun pointed at them while they were simply playing near their porch, and this in a safe neighborhood. There was no cause or prompting, just a quick move by a man with unknown motives. It causes fear. Fear that must be overcome daily.
May we live with more peace and regard for each other. May we treat each other with love and loyalty, as members of the human race, members of creation.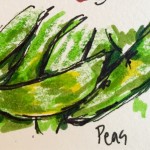 I hope we can learn from the example that surrounds us, the peaceful cooperation found in nature. The trees, the soil, the birds, the animals work together to survive and thrive with beauty.
In my garden, I witness a microcosm that balances and cooperates to bear fruit. Insects, bacteria, nutrients, soil, water, sun, roots, leaves…it all works together to form food we can eat, beauty we can enjoy. And I get to be a caretaker, to guide and protect the process. May we do the same in our everyday lives, care for each other, guard the process of becoming.
At this point, I hear Mr. Potter from It's a Wonderful Life,  waving dismissively, "Sentimental hogwash!" Maybe I'm laying it on a big too thick. To bring it a few steps down from mushiness, I hope we can be  more like our dogs. Our pets love us, even when we act like jerks, when we ignore them or forget to buy dog food. They are loyal and forgiving, and their love is constant. We are the ones who complicate things.
Here are a few furry friends that now have their portraits painted, a testament to their worth and value, and their loyalty to a fickle race.