My newest whim weighs a lot.
And I love it.
A lot.
But why read it like this…when you can read my story like this: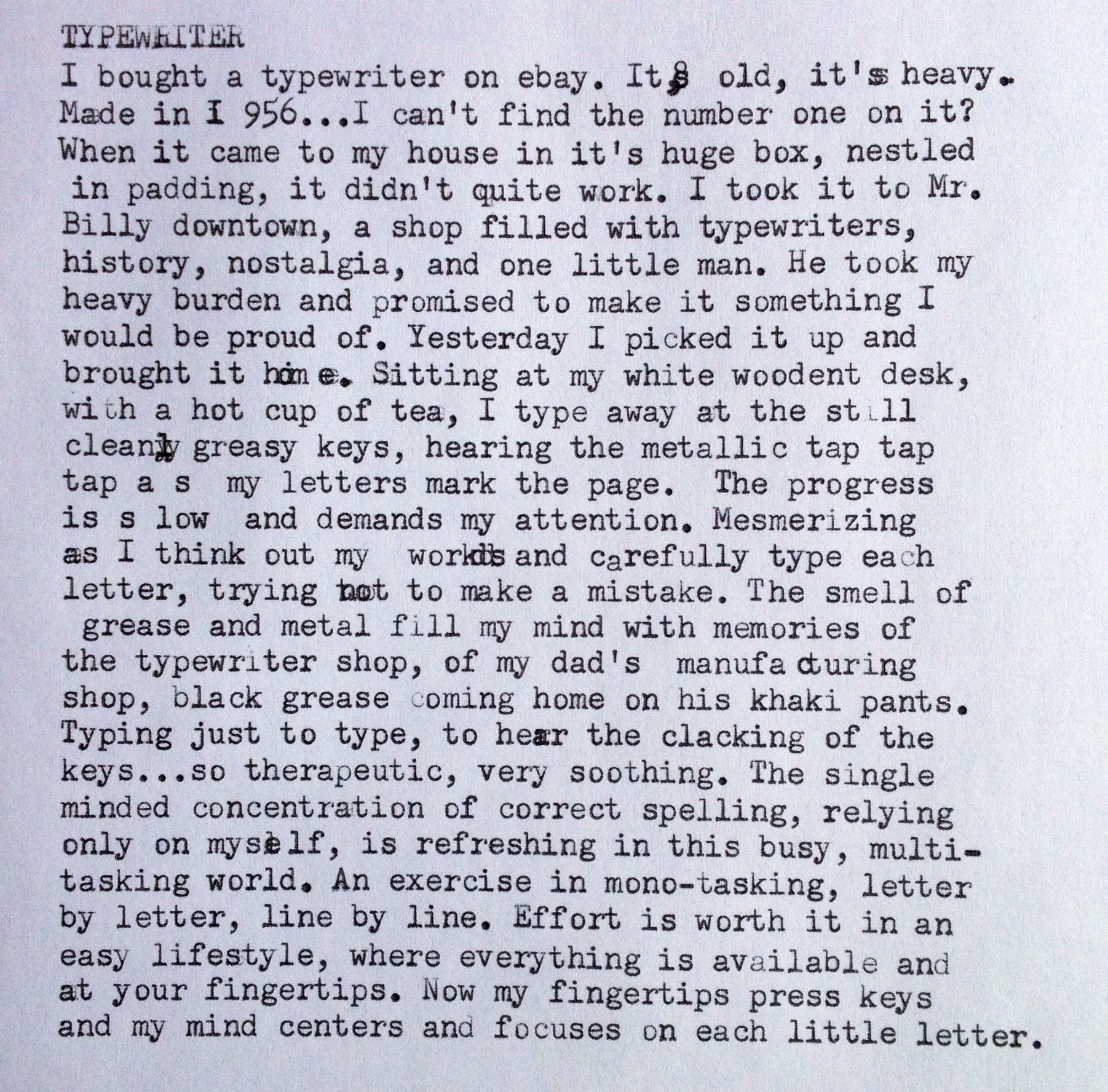 That's right. I typed that on my awesome new…well, old…Royal typewriter. And yes, I'm still in training…lots of mistakes.
My typewriter was born in 1956, same as my dad. And even better, thanks to my typewriter, we got to meet the fabulous Billy Hagood at Alabama Typewriter Co. on 6th Avenue in downtown Birmingham.
With my heavy typewriter resting in the trunk, my sweet daughter and I headed down University into the city. After a few more turns, we came to a little building, its name in white on a dark green awning, and crunched into the gravel parking lot.
Armed with my load, I backed my way through the door into a room completely filled with typewriters and stacks of papers. Old typewriters that reminded me of Singer Sewing Machines, electric typewriters like the one I used when I was little…all shapes, colors, and sizes, rows and rows and rows.
A man in a striped collared shirt and apron met us and with purposeful outstretched arms, he took my precious burden and set it on the only clear spot in sight. Slightly shorter than me, he asked me questions about my dirty typewriter, promising to fix it and "make it something to be proud of."
Turning to my daughter, he told her that "any writer worth something types on a typewriter." She was mesmerized by him and his shop full of typewriters, and I am also so grateful for a unique experience…one I hope won't disappear.
It's neat to preserve and USE a piece of history.
It sits proudly on our desk, waiting and inviting me to type and think and tell stories. My kids think it is awesome, and they love a turn to push the keys. I type on it every day…nonsense, good thoughts, whatever I want.