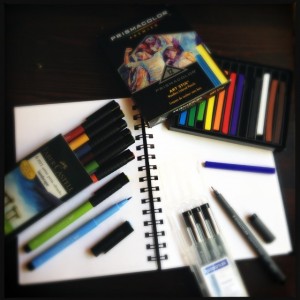 I've never been to Germany before. It is one of the most beautiful, peaceful and clean places I've ever been. We drove around the country on a big pink tour bus. All of my drawings from the trip were drawn on buses, trains or planes, making for some bumpy doodling. I decided any stray marks or wiggly lines just add character.
For my travel doodles, I carried a sturdy new notebook that would fit in my small bag, a set of 4 Staedtler ink pens, a small set of Faber-Castell PITT artist pens (brush markers), and a small box of Prismacolor Art Stix (woodless colored pencils). Everyday I watched for things to catch my eye, I tried to discover the essence of each place, recording my findings on my blank white pages.
Here are my first impressions of this beautiful country:
June 17, 2014
"In Mainz we walked up quiet streets, passing stacks of bikes, elderly couples holding hands or walking dogs, families with little kids trotting down the cobbled streets. The streets were canopied in beautiful trees with large leaves and smooth bark. Decorative white buildings with red roofs surround our walk. We passed an outdoor market filled with flowers and caught the smell of fresh fish.
At Wartburg Castle, we wound our way up the steep hill past mossy rocks and cheerful daisies to the white-washed walls crossed with thick wooden beams, ancient archways, white doves, cool breezes, and a high view of the German landscape. Sunlight danced on the rolling green fields, the many clusters of villages with their white walls and rust-colored roofs, the dark trees lining and dotting the land, and the huge wind turbines towering over the little towns with their giant, spinning arms."