The sound of a few tiny footsteps brings me out of softly nestled dreams into the awareness of morning. It's 6:45 on Sunday, and I open my sleepy eyes to a beaming, messy-haired and snaggle-toothed 7-year-old, who greets me with a whispered "Happy Mother's Day Mom!"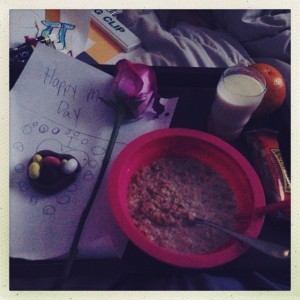 She holds a tray, taken off one of our nesting tables, set with her own well-intentioned version of breakfast:
a bowl of now-mushy cereal
a peanut butter granola bar
the "prettiest orange" she could choose
a little candy heart made out of tootsie rolls and leftover Easter candy
a small glass of milk
a rose pulled out of her dance recital bouquet
and a homemade card
Her Batman-footie-clad little brother comes pattering in soon after, with a handful of stickers and drawings especially for me. They also picked out all the yellow tubes of various paints from their own art kit, since yellow is my favorite color.
As I ate my – ahem – delicious breakfast, being eagerly watched by little expectant faces, I felt grateful for every too-sweet, soggy bite.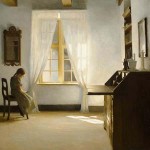 Later in the morning, I followed a white rabbit down the Google trail, discovering art techniques and artists previously unknown. A Danish artist from the turn of the 20th century captured my interest, with his "Sunshine and Silent Rooms." Peter Ilsted, along with several of his contemporaries, created paintings and prints of clean, sunlit rooms with calm, still figures…very beautiful, very peaceful, very quiet. The pieces were so calming, I couldn't help but pause. It was as if the only sound to be heard was the rhythmic ticking of a clock on an unhurried day; snapshots of ordinary places, ordinary moments, yet full of beauty and grace.
Inspired by the tranquility of Ilsted's work, I sat down in my own quiet, sunlit room and sketched my two older children, who were quietly playing with a few small toys at the coffee table. While drawing their busy little hands, my daughter's crossed feet, my son's little nose, I felt so grateful for the ability to absorb each detail in this every-day moment, and so happy to be a mom on this Mother's Day.
"How wonderful life is while you're in the world" -Elton John