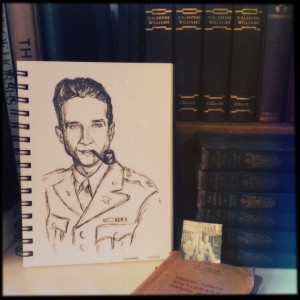 My Grandaddy just turned 97 years old, and I have to say, he is one of the coolest people I know. My little family and I had the privilege to live with him for a year during our move back to Birmingham in 2008, and that remains one of our favorite experiences.
Grandaddy is sharp, hilarious and awesome. He eats a big breakfast at his table every morning, and after a year of joining him for eggs, bacon, toast, strawberries, milk, juice and coffee, the Ingrams still sit down each morning for breakfast together no matter what.
I read his old mysteries, which fill my shelves, and we rotate Dick Francis books between three of us: me, Grandaddy and my Dad, always making sure to sign our name in the front cover after we finish. He cares about people, and has lived a rich life, full of stories and jokes. He loves my grandmother, who taught me to paint and draw and create, and years after her death, he remarried in his 90s and is a happy, funny man.
Everybody who knows him can't get enough of Buddy Moses. He's a cool chap.