One of the main reasons I began using pastels was to loosen up.
In high school and early college, I was the queen of minute detail. I loved teeny tiny brushes and sharp pencils. I had a huge callous on my right middle finger from squeezing the pencil so hard to get every last dot on paper.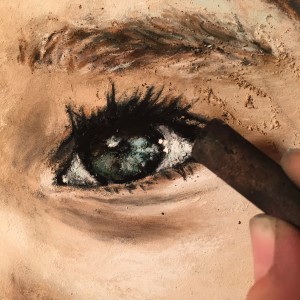 I still love detail, as I adjust the picture next to me to the best angle and spell check myself as I type. I'm sure it drives my husband crazy, as I settle in on the couch each night, needing the correct lamps turned on, my blanket just so…the list goes on. I will spare you, even though he is trapped. I attribute this desire for order and quirky detail to my father (hi dad!), who must have his lunch of a sandwich and chips on a paper plate every day, with a Mountain Dew of course.
But I digress. My oldest daughter, to whom (poor thing) I've passed much of this down, calls us "noticers." We notice things. I'm good with that.
But when it comes to art, it can be FRUSTRATING. Especially on a portrait. Sometimes you just have to let go; you have to loosen up. So I grab a big piece of chalk. Still getting good detail, the large pieces keep me from over-detailing, from stressing and focusing on minutiae. It has helped me take the leap from tight drawing to something closer to my favorite style of Impressionism.
Using big pastels is like having a third child.
You have to loosen up, or you won't survive. It just won't work. You have to learn and train yourself to go with the flow, to notice the important things and pass over the stressors and tiny dots that just distract. You can more easily see the beauty that stands out, and enjoy it, record it, embrace it.