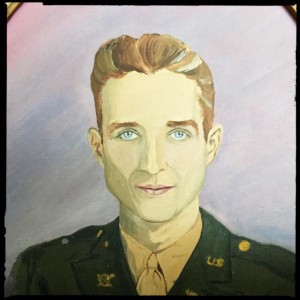 This past summer my sweet Grandaddy passed away. Whenever there is a death, we the living pause. We remember that life is transient, ever changing, ever fragile, ever complex, ever lovely. We reflect and peruse memories and belongings.
Lingering in my grandfather's apartment with my family the day after he passed, listening to the tick tock of the tall clock, noticing the newfound emptiness now that he is gone, I wandered through the few rooms. I touched his hat resting on the lamp, the softened threads of his gray-blue suit coat, his glasses by the adding machine. I spent awhile in front of a portrait my grandmother had painted of him a long time ago, when he was a young captain during WWII. He had the most beautiful clear blue eyes. My grandmother, his wife of 60-something years, is the artist who taught me what I know.
I carried that portrait in my mind for a week. To me, it meant she loved him. She was proud of him. She created a memorial to him, to the early days of relationship, a lasting image that we can absorb decades later.
I decided it was my turn. I spent a while looking through photos on my phone, looking for a straight forward image of my love, my husband, that spoke with the same simplicity, the same earnestness I found in my grandfather's portrait. I settled on one taken at dinner, a photo that seemed ordinary. It wasn't on the cliffs of California, or the sunset beach, or under the Eiffel Tower. Just dinner, just us. Just a quick, easy smile.
I chose watercolor and a new surface: a canvas painted with watercolor ground, making the canvas absorbent and ready for my paint. The background formed accidentally, when I piled on the color and subsequently wiped it off. "Happy accident," as Bob Ross says.
I began to paint, and put a lot of love into it. Admiration, pride, appreciation… all in there. The painting took on a life of it's own, as it so often does, and captured more of him than I meant to. Someone mentioned how kind and intelligent his eyes look. The painting revealed a lot of who Stephen is, which art should do. I'm glad to have this now.