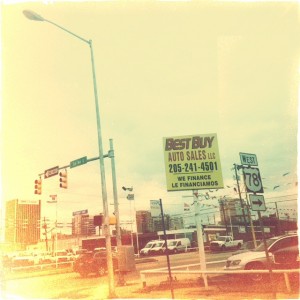 We load up in our late '80s Dodge minivan, wearing floral dresses stitched by our Granny's tight hands, with our long hair tied in ribbons. Heading down Red Mountain Expressway, we see the city as we turn the corner.
Nearing the 2nd Avenue exit of downtown Birmingham, my sister and I plaster our noses to the window, waiting for our weekly glimpse of Penny the dog wagging her tail.
Growing up, my family attended the beautifully historic 1st Presbyterian Church of Birmingham, Alabama. We had certain landmarks to look for with each 12-minute journey from our suburban home into the heart of the city.
We always watched for Vulcan, Sloss Furnace, Penny the dog, the castle apartments, and on the way home we loved stopping for a Pete's Famous Hot Dog.
So here's my tribute to one of the many Birmingham icons, the Gold Seal Dog Food, and later Birmingham Hide & Tallow Company's "Penny the Dog."
Recently restored and moved to the new Region's Park, home to the Birmingham Barons baseball team, Penny will continue to be a childhood memory for even the smallest Birmingham residents, like my three funny kids.