An artistic pilgrimage.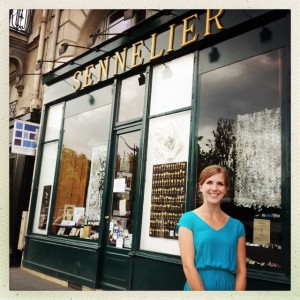 Across the same bridge over the River Seine to the same, small green shopfront near the Louvre.
I stood in front of Sennelier for the second time.
Last time I was there, there was no art career. There was a lifetime of interest and dabbling, but no career. I bought my first pastels there, after hearing about Sennelier on NPR. That same year, I embarked on a career change, determined to make art a way of life.
And here I stood, years later, in front of the store that feeds my art and brings my pastels into being. We went inside and I touched the worn, wooden drawers containing every color pastel. We maneuvered around the cramped, aged art store, past the old wooden ladder and over to the notebooks. I made my choices and with a timid "Merci" purchased some notebooks, future home of new doodles. Something I can keep.
Like standing in the English field among the sheep that I'd drawn so often, standing in Sennelier was another step in coming full circle. But it was not the last.
Mont Martre.
With our umbrellas and soggy shoes, we left our lunch at the Eiffel Tower with our sights set on Mont Martre, the gathering place for artists past and present. Last time our visit to Paris was so brief, we only had time to touch this section of the city. Rain or no rain, we would soak it in and look over all of Paris from the hill of Sacre Cour.
Laughing and out of breath, we slipped and climbed up the steep sidewalks to the top of Mont Martre. Navigating through umbrellas, we wove our way past cafes and windmills, artists shielding their work from the wet weather. With easy smiles and free spirits, we leaned on the fence in front of Sacre Cour, the carousel below us and Paris spreading its arms as far as we could see.
We moved down the steps like children and stood in front of the carousel, watching it spin and entertain. I knew every piece, a former pastel now shared in a home somewhere in Alabama. A piece of Paris.
My art career has grown and my life has deepened over the years. The beginning, the inspiration, the moments have come full circle with this trip of pilgrimage. I have said my thanks and recognized those things, those places and those people that have moved me and brought me thus far.
Like the turning carousel, I made it around and stood again in the same place, I very much changed.
And now I have a renewed heart and new adventures to explore and draw and share…
moving forward with much warmth and these memories in my pocket.