Welcome!
I'm Mary Liz and I want to thank you for visiting my site, and invite you explore. With my textured, vibrant pastels I work to convey the beauty and depth of the modern South, drawing out reflections about life and our surroundings.
Raised and based in Birmingham, Alabama, I'm a southern city girl. A self-taught and awarded pastel artist andinstructor, I am also a mother of 3 young and creatively messy children, devoted wife and a preschool director.
I am addicted to collecting pieces of the South:
I have been know to dash down the shoulder of a busy road for a thistle, teeter on rocks for an oyster shell, and wade through field grass for a cow's close-up. I put my favorite iPhone app to good use, snapping quick photos as we pass hay bales, rusty water towers, or a dilapidated barn.
My art ranges from tiny 3×3″s, to large 30×30″s, and I adore a soft, creamy Sennelier pastel and a rough textured board. I only work with the highest quality materials, and enjoy working on commission to help you welcome home your own personal piece of art.
I've found my way around the world of art, and love to offer what knowledge I have collected to others-especially emerging artists. With an art colleague, I helped create a small community of artists that we amusingly call "the Eclectic Art Social Club." Visit my Resources page to find out more about our art group and upcoming shows.
I teach unique pastel workshops in the area, and have taught group classes for adults and children for the past 6 years, first at Hobby Lobby and then at Forstall Art Center. After welcoming our third child to our family, my group classes are temporarily on hold! I am and have been an active member of many art associations, such as the Pastel Society of America, the Alabama Pastel Society, the Shelby County Arts Council, the Mountain Brook Art Association, and served on the board of the Birmingham Art Association from 2011 – 2014.
My "Pieces of the South" series are available at Alabama Goods in Homewood, Alabama, and Andrea Lucas Studios in Irondale, Alabama. More art of my art is also available at the Ferguson Showroom in downtown Birmingham, and Escape Day Spa in Homewood.
Awards: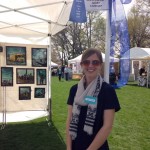 Best of Show, Shelby County Arts Council Juried Show 2009, Columbiana, AL
Best of Show, Hampton Fine Art Gallery Juried Show 2010, Greensboro, GA
Best of Drawing, Shelby County Arts Council Juried Show 2010, Columbiana, AL
Honorable Mention for Drawing, Shelby County Arts Council Juried Show 2010, Columbiana, AL
2nd Place, Birmingham Art Association Juried Show, 2012, Birmingham, AL
Voted one of Birmingham's Best Local Artists of 2013 in the Birmingham News & AL.com
Best of Show for Professional Artist Category, Mountain Brook Art Association Spring Art Festival 2014
My Blog
Between chasing my 3 kids and running a preschool, I regularly post on my blog "Reflections of a Southern Magpie." I invite you to subscribe on my home page so you can enjoy updates on life in the South revealed through art. On my blog you will find:
tips about pastels
poetry, photos, quotes and art that inspire me
images of the South that spark reflection
my newest pieces of art
a little bit about how and why I do what I do
guest posts from other artists
If you are new to my site, take a look at a few of my most popular posts:
Tips:
A Re-Do with Michelangelo & Bob Ross
Reflections:
Art: