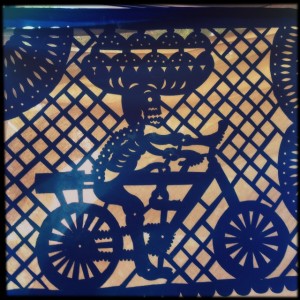 Last night my husband returned from San Antonio, bearing gifts and stories and impressions. He's been before, but this time, his trip was marked by a tradition somewhat unfamiliar:
Dia de Los Muertos, the Day of the Dead.
Sure, we know what it is: the (mostly) Mexican tradition of honoring ancestors, remembering and celebrating their life and welcoming their spirits return for the celebration, the night of October 31st through November 2nd. We see images of decorated, colorful skulls, skeletons, flowers, and ofrendas. But being the Scotch-Irish Americans we are, it is not a part of our culture or yearly celebration.
When our son received his San Antonio t-shirt with a decorated skull on the front, he knew instantly the significance, thanks to elementary school Spanish class. When I unfurled my Day of the Dead banner, our daughter gasped and clapped, remembering the same recent lesson at school.
I then realized, I'm a little rusty on the full comprehension of this fascinating cultural celebration…. So I researched and read. I love gathering information, understanding and absorbing new experiences. In my reading, I came across this:
"Day of the Dead is becoming very popular in the US – perhaps because we don't have a way to celebrate and honor our dead."
Day of the Dead seems so macabre, mysterious. Seeing kids with candy skulls and toy coffins, skeletons riding bicycles, painting faces to look like skulls…it's not what most of my demographic is used to. Death is to be feared. When someone we love dies, we try to move past it, push it away, we try to forget about death and just remember life.
With Dia de Los Muertos, something sad and scary is made beautiful, colorful, full of life and celebration. Through art, music and life, the dead are remembered, not just at one funeral, but every year. Hmmm. It makes you think…
In reflection, I drew a self-portrait this morning.
Then I redrew it, and through the magic of art, added "Sugar Skull Face Paint." It's hard to see a skull and not think "creepy"; death makes us uncomfortable, or at least it makes me uncomfortable.
But it is part of life, and life in all its forms is to be celebrated.