At this point in my journey, the name of John Wesley very nearly caused eye rolling. (Okay, maybe I let one slip)
John Wesley's story, check, I got it, I could tell it in my sleep. Cynical? Obnoxious? Maybe…..
Enter the port city of Bristol.
Bristol? Why are we here again?
Humongous seagulls dropped poo bombs around us, the streets were busy and a bit rough, definitely in contrast to our peaceful walks down quiet English streets or the intelligent culture and neat stones of Oxford.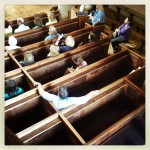 We found a small building in the middle of the city: John Wesley's New Room. This was the place where he and his cohorts pretty much began the Methodist Church. Not exactly ready to hear more about John Wesley, our little posse moved upstairs to the balcony, looking down on the pew boxes below. Somewhere in the presentation, my impatience waned. I mean, you gotta respect this guy, who built a room without ground floor windows because people threw bricks at them.
June 23, 2014
"The New Room was very much the same as when the Wesley's met there, lots of old wood and white wash, pew boxes and benches, a high pulpit above a lectern above the table on the floor, candles on the walls and columns, a big ticking clock in the quiet room. As much as I'm full of this story, he did something with his ideas. It wasn't just a passing feeling of needing reform, he acted on it. He worked and caused change."
With so much filling our heads, so many experiences stacked one upon the other, we retreated to our hotel by the River Avon. It was a good place to rest and regroup, to find some comfort amidst the thoughts piling up in my mind.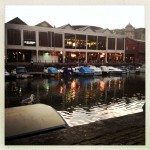 June 24, 2014
"After dinner last night a group of us walked up and down the river for awhile. The night gets dark more quickly down here, but it was still around 10:00. We had the nicest room and most comfortable bed yet – puffy and white with a deep red velvety comforter. I had a cup of cappuccino while I got ready to go down for another English breakfast. 
Leaving Bristol behind, I keep a memory of lights on the water, modern buildings with the towers of stone cathedrals rising behind, a backdrop of slowing dimming dusk, seagulls still busy in the night air. Boats small and large, old and new – deep green canal boats, large wooden ships, tug boats with tires attached."
Like a boat heavy laden, I floated down the road toward London. The scenery was coated in fog as our green bus took us from Bristol, the landscape sleepy and foggy like me.