As twilight fell, the hour was late.
By a river we walked, a thin path columned by tall grass and soft Queen Anee's Lace. My hands fell gently upon the white flowers, as they bent in the direction of my steps. Searching for a bridge we never found, our stomachs full on roast and yorkshire pudding, we wandered past mossy tombstones, a sleeping country church, steep cliffs and quiet trees. Across the stream, we could see the glowing facade of Willersley Castle, the manor house in which we slept for the night, windows open to the cool night air.
We'd been to York and Epworth earlier in the day. We stretched our heads back to take in the tall magnificence of Yorkminster Cathedral. We felt the echoing organ fill every corner of the beautifully cavernous sanctuary. We climbed high and walked the ring atop Clifford's Tower, looking down upon York with it's ancient streets and yellow bicycles, banners and window displays preparing for the upcoming Tour de France…a city full of color and life, people walking, laughing and eating ice cream.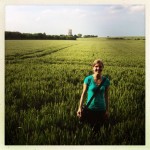 In Epworth we walked through the peacefully frozen house of John Wesley, preserved and restored like a snap in time. I touched the leaves of the garden plants and smelled the lavender on my hand. The quiet street was only interrupted by the call of a raven and the bleating of sheep. Near a church, we found a green field and a short path between trees. Exploring it's ending, we found a spreading field of barley.
Such history preserved.
Again I lost sense of space and time and felt sucked backwards to earlier days, an immersion in ages past. When people gardened and read and walked and lived without such haste and stress. When life took more effort, but probably saw more of reality.
Maybe. Maybe not.
But it encouraged me to slow my pace, to open my eyes and to work with my hands.
The next morning, with mist still rising, we walked down a quiet street to St. Mary's Church in Lutterworth. Inside, young children rode on bright plastic push cars, drank juice from sippy cups, played and laughed and cried, filling up the old stone space with the sounds and activity of today, of new life. Outside next to a blooming hydrangea and 15th century tombstones, I met a mother from Vermont and her baby girl. Now living in England, she shared my appreciation for the rich history and beauty of the place. Like I was trapped in a bubble, our easy, American conversation was a reminder of the present. The present living in and among the ancient. It's something we are not used to, living in our young country across the sea.