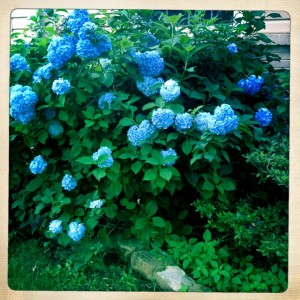 Down my sidewalk, between the rows of tall Monkey Grass, you meet my front steps. The beige paint is weather-worn, showing patches of brick red and copper underneath. We sit on these steps often; we welcome friends and family to our home; we watch the rain and wind during summer storms.
My baby learned to walk by going up and down the path, with the flowers on the big hydrangea bush as her goal. The hydrangea stands to the left of the porch, under the window, drooping under heavy clusters of rich blue flowers. A backdrop for the softest, greenest part of our yard, the hydrangea sees a lot of summer play. The kids play in the sprinkler before the blooms, making sure they get enough water in this Southern heat. The kids wrestle in the grass, picnic in the shade, and play with neighborhood cats. Our baby loves to smell the flowers and gather as many as she can hold in her tiny arms.
The flowers, so dense and colorful, overflow vases all around our home, and are always a sweet treat from my little boy to his mama. They bring life to indoor spaces, and beauty to our home.