Staring seems to accompany boredom.
We have a very wee little house, and I've been in it with three kids for quite a few days in a row. They play, we have "dance parties," they go in the back yard, the front yard, we chill, we eat, we draw…but like I said, it's a small space for busy little people.
The cat and I find ourselves gazing out the window. We see the busy, worm-searching birds, the neighborhood cats languidly crossing the road; we see our neighbors take their dogs for walks, people coming and going, weeding gardens, washing cars. We look at the blue hydrangeas drooping in the heat, and I go out to water them.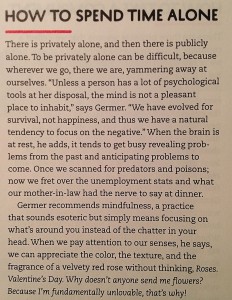 I read an article the other day, while lounging in my window-side leather chair, as the baby napped and the kids played. It was about being privately vs. publicly alone…interesting little snippet. It says "To be privately alone can be difficult, because wherever we go, there we are, yammering away at ourselves," i.e. driving ourselves crazy. Moping, getting grumpy, worrying, thinking about problems and to-do lists. (Also, being jealous and missing your husband while he's on an exotic trip.)
The author recommends "mindfulness, a practice that sounds esoteric but simply means focusing on what's around you instead of the chatter in your head." 
So I decided to stop wallowing, and soak in my surroundings: my sweet kids, even when they're squabbling; the sound of "Mama" coming from my baby's room as she wakes; the beauty of the tree in my yard, the quiet sounds drifting through my screen door.
Life is very good. And Daddy is on his way home.