Back in the day, I might have made an Art Mixtape. It would've been awesome. I would have made several to keep on hand and pop in "ye old tape player" as needed: a mixtape for those days of "Existential Flu"; a mixtape for those productive days full of eager creation and purpose; a mixtape for days spent drawing cotton fields and pigs.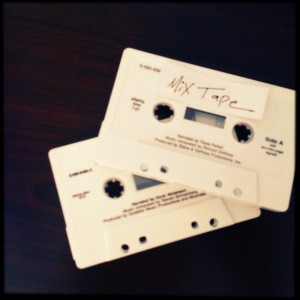 For me, art and music go hand in hand. I can draw and create with children on my back, showing me lego creations and spilling paint, as long as I have music to help me ride me above the chaos. Music imbibes life into each stroke of my pastel. It helps me work quickly and, well, musically; loose and free marks are capable because music carries my thoughts and keeps me relaxed.
Music gives expression to complicated thoughts. As I look back on the soundtrack of my life, I can associate songs with different phases. Songs of searching and even despair when I was trying to find my way in the world; songs of triumph and energy when I'd found a path to follow; songs of ease and depth when my life feels full and rich.
What songs are on your playlist? What music gives expression to your life? What music aids you in your art?
Here are a few of my current choices:
The Lumineers, Mumford & Sons… for those much-needed "art days," when I am free to create as I choose
The Alabama Shakes… when I want to relax
Old Crow Medicine Show & Johnny Cash… for those pigs, cows and cotton bolls
Some past choices that have run their course, but you never know if they may see a resurgence: Norah Jones, Coldplay, Bob Marley, Jack Johnson, Madeleine Peyroux, classical piano
"He was full of emotions struggling for expression…"
–The Survivor, E. Phillips Oppenheim
Some of my art inspired by song: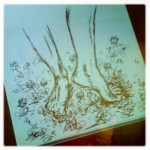 Lovely Girl