This little piggy went to market, this little piggy stayed home. This little piggy had roast beef, and this little piggy had none. and this little piggy…went "wee, wee, wee!" all the way home…
Well, this little piggy was meant for market, and this little piggy found a new home. My fastest sale ever thanks to a lovely lady from the Birmingham area, he made a quick debut on Facebook and used his charm to find his own place in the world. He is a happy little fellow!
While I was drawing this pig, I remembered a scene from my childhood…one of triumph and pride that I carried with me for quite some time. I confess, it's been awhile since I thought of it. But how could I forget?!
It was the Alabama State Fair, circa 1985. I was there with my family, perched on my mom's hip. I can still picture the scene, in that long-ago, fuzzy kid-vision we have of moments that make a great impression…the colors, the noise, the smell of hay.
We were standing at the ready, waiting for the pig race. That's right – a bunch of numbered pigs ready to race; a  big moment in the life of any child.
We chose our pig.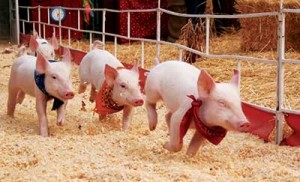 I held up three small fingers, pulling for pig #3.
Come on piggy! Run like the wind!!!
And pig #3 did not disappoint. Pig #3 was the winner, and I, small 4-year-old Mary Elizabeth, was the winner of the pig race.
Now, there may or may not have been other winners that day, but I received my "I picked the winner at the pig races" white satin ribbon, and kept it like a treasure throughout my childhood, a reminder of my triumph.
My pastel commemoration of that proud moment in my past now has a loving family. But the store still needed the requested pastel pig!
So, instead, this little piggy went to market at Alabama Goods, and he is waiting for you to come take him home! Oink!!