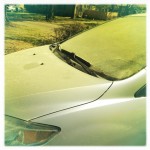 Spring has sprung in Alabama, and with its advent comes the yellow haze. The dreaded pollen influx has enveloped our neighborhoods, coated our cars, and invaded our lungs. Yellow clouds are stirred by the wind like sand storms. We're all on Zyrtec in order to survive.
But with all this yellow dust, comes the most beautiful array of Spring flowers. Now, if anyone cares to notice, I don't often draw flowers. I think flowers are fabulous (hint, hint to my husband); but I'm just not a huge fan of choosing them as my subject. I've drawn them occasionally: daffodils, camellias, magnolias…
Do thistles count?
And I use them in pictures, especially portraits.
While I don't often choose to create pastels of my petalled friends, I am a sucker for taking photos of them! So happy Spring to you all, and here are a few photos of the beautiful flowers around my home: